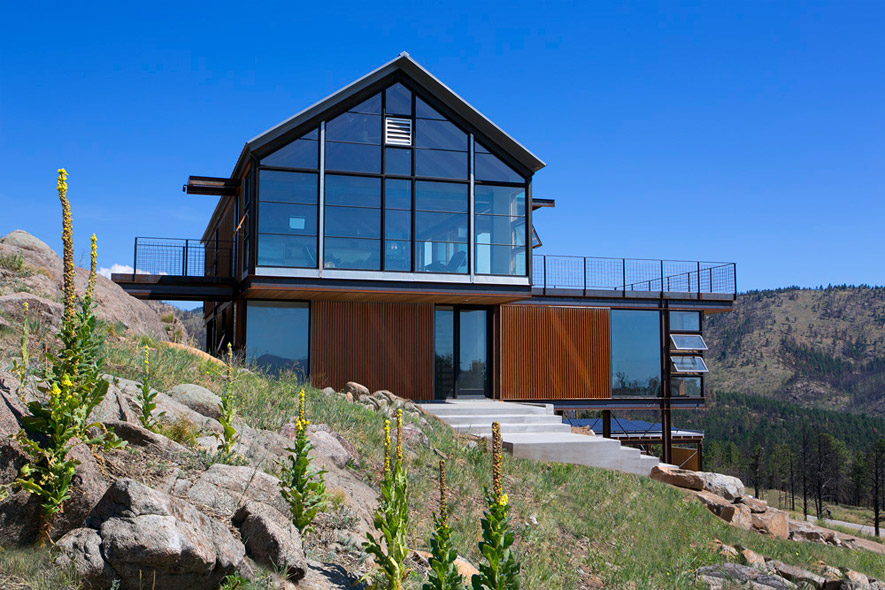 5595 Sunshine Canyon Drive | Boulder | 80302
Architecture: Renée del Gaudio
Built 2012; 3 bedroom, 3 bath, 2,600 square feet
Granite outcrops, steep slopes and spectacular views define the form of this house. Two linear volumes, which are stacked and crossed, reach out to mountain views to the south, and city lights to the east.
Sliding barn doors and a gabled roof tap into the forms and materials of nearby historic barns. Colorado's vernacular style combines with the clean lines of modernism.
The building is responsive and adaptive to its environment. It addresses the topography, wind and light patterns, and the movement of the sun. Rolling shutters close down the house from the cold and wind at night and open it up to the views and sun of the day. A 3.6kW solar array produces 100% of the home's electric needs.
Exterior materials are rugged, fire resistant, and maintenance free. Corten steel complements the landscape as it ages with a weathered, natural patina.
The 2010 forest fires above Boulder, Colorado ravaged this property and burned down a cherished wood cabin. In the cabin's place is now a smart, spirited house that connects to the past and looks towards the future.
All photography by: Dana Miller