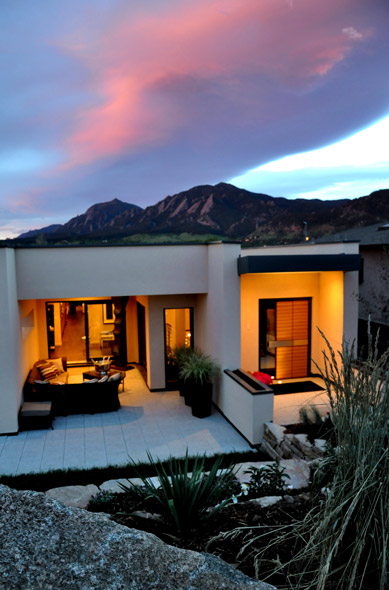 2002 Alpine Ave. | Boulder | 80302
Architecture: Studio H:T
Offered by: Colorado Landmark, Realtors
Built 2010; 3 bedroom, 2.5 bath, 4,335 square feet
This Modern house in Boulder, Colorado is positioned on a hillside capturing spectacular views of the Flatirons, Boulder's landmark. The house is slated for LEED platinum certification, and is equipped with photovoltaic panels. An elevator from the garage entrance ascends to the main level where a European-inspired kitchen and open living areas abound with light and air. 2002 Alpine is as eco-friendly as a home can be, but has all the bells and whistles including a fully outfitted theater room, master sitting area with bar, and a roof top terrace to enjoy the great outdoors.
An iconic residence… 2002 Alpine is the US prototype home of the future.
Being different by definition means breaking from convention. And 2002 Alpine is a stunningly beautiful residence with elegant appointments and extraordinary attention to detail! The f irst American-designed, urban, hyper-eco-luxury home in America, this 4,300 sq. ft. masterpiece will be completely finished in less than 3 months, and paves the way for a revolution in how we design, build and enjoy our living spaces.
Projected energy use for 2002 Alpine is 18% the average energy use of a typical U.S. home.
An average home built in the U.S. today has 17% waste. Vireo homes have less than 2% waste on average.
The first Colorado private home pressure tested to 100 psi – the key to energy efficiency.
4,300 sq. ft. home built in 4 days, assembled in 9 days, and crafted to last 100 years.
Revolutionary CAD-CAM system delivers unrivaled precision in home (±½ inch over 100 ft. span).
Photography by Wilson Kauanui